Once upon a time there was a little boy who grew up to be sooooooo smart he could teach geography to 15 year olds.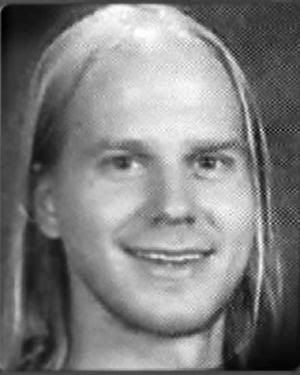 His mama and daddy were very, very proud of their baby boy. He was pretty and smart and had a nice hair-do.
His mama and daddy alway told him his was soooo much smarter than everybody else. They also told him he was a lot prettier.
He believed them.
When this little baby boy grew up he went to the Land of Oz, safely tucked away, surrounded by people who thought he was very, very smart, pretty and had a nice hair-do.
Then one day and very mean and nasty 15 year old boy did a terrible thing to our little baby boy. The mean and nasty 15 year old boy taped a mean-spirited, nasty, propaganda-ridden, indoctrinating speech our little baby boy ranted to his geography class.
Since our little baby boy, Jay, had made sure he lived in his bubble with like-minded people, he thought he was safe to indoctrinate his pupils.
The mean, nasty and obviously hate-filled 15 year old burst his bubble.
Poor Jay. He cried and cried and cried.
His mama and daddy said, 'Don't cry Jay, you are still prettier and smarter than annyboodddy else and you still have a nice hair-do.'
Sniffle, sniffle.
Jay went to a lawyer who said, 'Jay, you are smart and pretty, but you're going to have to cut off your hair because the The Scrub doesn't allow Freedom of Speech and he'll do something bad to you if you look like a flower child.'
AAHHHHH, whine, whine, Sniffle, sniffle.
So Jay shaved his head and went on T.V. and talked and talked and gave speech and speech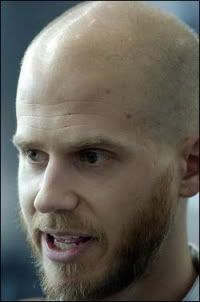 and told everybody how he was being denied Freedom of Speech.
He said The Scrub wasn't letting him express himself because The Scrub is a dictator and would do bad things to him if he talked to anybody about The Scrub.
He talked to everybody and told them The Scrub wasn't letting him talk.
Then he got his job back and swaggered and smiled and joked about how mean that little 15 year old student was to expect him to be accountable for what he said. That's just flat-out wrong, he said. 'I demand Freedom of Speech', he cried.
He was so mistreated. It was shocking.
So he went back to school and the mean, nasty little 15 year old boy has to go to another school because that school won't allow him to express how he feels about our little baby boy expressing how he feels. And it serves him right!
Little Jay now feels he's been proven right. He has shown that Freedom of Speech is at risk in this country. The Dictatorship of The Scrub Administration has .... has .... well, they did something to hurt him, I'm sure of it.
So Little Jay went back to teaching brain-washing techniques in geography class for 15 year olds at his little school in the hills infested with the off-spring of the 60's hippies.
His mama and daddy are so relieved. He won't have to get out of his bubble never ever again. He is safe in those hills. They hope the real world will never, ever come after him again.
The moral of the story is that Jay Bennish is the poster child for why The United States of America should have mandatory (compulsory) military (National) service.
The Military could have made a man out of him. They also would have given him his new haircut and not charged him a dime for it.
~*~*~*~*~*~*~*~*~*~*~*~*~*~*~*~*~*~*~
cross posted at the new Blue Star Chronicles site.
Linked to: The Median Sib; Debbie Schlussel; Conservative Cat; The Median Sib; Stuck on Stupid; Third World County; TMH's Bacon Bits; The Liberal Wrong Wing; Adam's Blog; Mount Virtus; Stop the ACLU; Atlas Shrugs; iHillary; Huckleberry's Online; Michelle Malkin; Slapstick Politics; Random Thoughts of Yet Another Military Member; Church and State; Social Views from the Right; Big Dog's Website; Conservative Thinking; The Nose On Your Face; Scrappleface; California Conservative; DPGI; The Education Wonks; The Blue Site; Argghhh!; The Crazy Rants of Samatha Burns; Voteswagen; Is It Just Me?; The Uncooperative Blogger; Rhymes with Right; The Real Ugly American; WizBang; The Cozy Reader; The Real Teen; Thunder Run; MacStansbury; The Dread Pundit Bluto; Iowa Voice; Donkey Stomp; The Colossus of Rhodey; Severe Writers Block; Right Wing Nation; The Right Nation; Basil's Blog; Mudville Gazette
~*~*~*~*~*~*~*~*~*~*~*~*~*~*~*~*~*~*~
Bigoted teacher who was caught is reinstated de...
Excerpt: Jay Bennish, the anti-American teacher who was taped by one of the students in his geography classroom in Colorado while shoving one of his bigoted little lectures down the students' throats, has been reinstated in his job despite the obscene indoctr...
Weblog: Tel-Chai Nation
Tracked: 03.11.06 - 12:39 pm
Jay Bennish: Flower Child or Neo-Nazi?
Excerpt: Jay Bennish has been reinstated in his job teaching Georgraphy at a school in Colorado. He has reportedly promised to give all sides of an issue in future classes. Now, here is the last word!
Weblog: Capital Region People
Tracked: 03.11.06 - 12:49 pm
Christian Peacemaker Teams - An Expected Outcome - And The Journal of Tom Fox
Excerpt: Several months ago when terrorists kidnapped a Christian Peacemaker Team, I wrote that they were stupid to go into a war zone. High, lof ... Weblog: The Median Sib
Tracked: 03.12.06 - 10:13 am
Excerpt: A simple question. Would a country, an actual country, with, you know, a spine and just a smidgen of pride require this sign?
Weblog: Freedom Folks
Tracked: 03.12.06 - 12:24 pm