Join the Sammenhold Blogroll.
The Sammenhold Blogroll in a way to exhibit our solidarity with the Danish in the fight to preserve our Freedom of Speech, Freedom of the Press and Western society's values.
There are many who have shown great courage in standing up to Islamofascism at great personal risk. We must find ways to let them know they don't stand alone. This is a small way to speak out and show support for those on the front lines of this battle.
The first 25 to join the Sammenhold Blogroll will be Gold Members.
To join: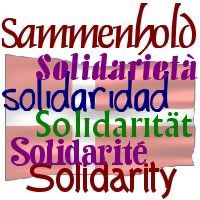 Feel free to resize buttons as needed. More buttons will be added and I welcome any suggestions for buttons.
If you would like your country's flag as part the animated button,

please let me know and I will be glad to add it.

Just email

me at beth@bluestarchronicles.com

Blue Star Chronicles

reserves the right to remove any site from the Sammenhold Blogroll at my discretion.

Please do not directly link to the buttons on this webspace as this eats up my bandwidth.

~~~~~~~~~~~~~~~~~~~

Linked to: Basil's Blog; Third World County; Adam's Blog; Freedom Watch; THM's Bacon Bits; Stuck on Stupid; Cao's Blog; Right Wing Nation; Jo's Cafe; Those Bastards; Mudville Gazette; Mark My Words; Argghhh!

Excerpt: Sammenhold is the Danish word for "solidarity."

Weblog: A Lady's Ruminations

Tracked: 03.10.06 - 9:52 pm