Why, why-o-why, won't the ACLU leave the Boy Scouts alone? Why not attack the evils of cats, dogs, picket fences and apple pie? The ACLU is attacking the Boy Scouts over the 'duty to God' statement in their oath. They say that makes them a 'religious' organization. They are saying that as a religious organization they can not receive any assistance from the military. This includes exhibits, support for or provision of equipment provided to the
Boy Scout Jamboree
. They say this violates the Establishment Clause of the First Amendment.
The World Net Daily
reports that the
ACLU takes on Boy Scouts in 9th Circuit
. This suit is on behalf of a Lesbian group who want to stop the Boy Scouts from using public facilities in San Diego on the grounds they are a religious organization and should not be using public parks, etc. for Boy Scout activities. Unfortunately for the ACLU, there are other groups that use the public parks in question, including the Salvation Army, some Protestant churches and the Jewish Community Center. That presents a problem doesn't it? We know all these individual incidents the ACLU is suing the Boy Scouts over are not what this is really about. Isn't this just harassment through the legal system? This is just about payback. It's payback because the Boy Scouts won a Supreme Court case involving their First Amendment right not to admit an openly homosexual Scoutmaster. So, while the ACLU defends NAMBLA they wage war against the Boy Scouts. They maintain NAMBLA is not harmful to our children. The Boy Scouts, on the other hand, are 'bigots' espousing values such as honor, integrity, discipline, self-reliance, participating in the community and helping others. Both of my kids were in the Scouts when they were little. They both have turned out to be pretty decent young adults. As a young mother I didn't know the Scouts were such a dangerous organization. I haven't seen any bad effects from letting them be Scouts ... yet. More information on the ACLU jihad against the Boy Scouts can be found at:
Stop the ACLU
;
The Uncooperative Blogger
; The Boy Scout Oath:
On my honor I will do my best To do my duty to God and my country and to obey the Scout Law; To help other people at all times; To keep myself physically strong, mentally awake, and morally straight.
The Boy Scout Law:
A Scout is: Trustworthy Loyal Helpful Friendly Courteous Kind Obedient Cheerful Thrifty Brave Clean Reverent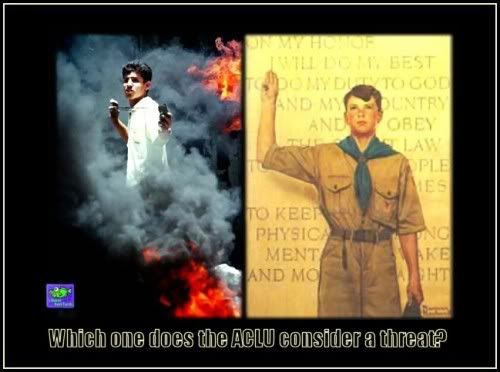 When is enough, enough?