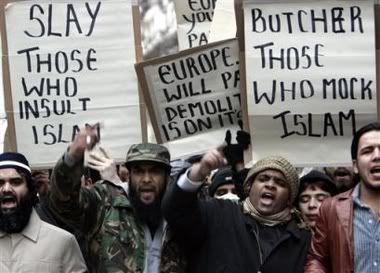 The Religion of Peace continues it's bloody rampage on the world. From
Ireland On Line
Bomb kills four Iraqi children on way to school
A bomb exploded today on a central Baghdad street, killing three boys and a girl as they were walking to school. The dead included two brothers and their sister. At least 14 other people, including six policemen, died in car bombings and shootings across the Iraqi capital. The children were killed when a bomb exploded in central Baghdad's bustling Fadel area near a camera shop which also sold alcohol, police Lt. Ali Mittab said. The target was unclear but religious extremists often attack stories that sell alcohol or DVDs deemed pornographic. Police said the children were aged from 10 years to 14 and included two sons and a daughter of Jamil Mohammed, a poor vendor who worked in a nearby public market. "We are poor people who have nothing to do with politics," the father sobbed at the local police station. "We only wanted to live a decent life. What is the guilt of my dead children? They were only heading to school. Now I am left with only two children. This is a disaster for my family." At least three car bombs exploded across the capital today, targeting police, but killing and injuring ordinary Iraqis as well. A parked car bomb exploded as police patrol passed, killing four policemen and wounding two civilians in northern Baghdad, said Lt. Nadhim Nasser. Another car bomb blast killed two civilians near Baghdad's University of Technology, according to Jabir Mohammed of the eastern Baghdad emergency services department. Five people were wounded, three of them police, he said. A third explosives-rigged vehicle blew up near a petrol station as an Iraqi police patrol passed in downtown Baghdad's Karradah area, wounding five policemen and three civilians, said Maj. Abbas Mohammed. Gunmen firing from two cars shot and killed police Capt. Hussein Ali Youssef and his driver, also a policeman, in south-western Baghdad's Sadiyah neighbourhood, said police Lt. Aqil Fadil. Police said they found the bodies of five men today shot in the head and dumped near a Shiite neighbourhood of western Baghdad. Their identities were unknown, but they appeared to be the victims of sectarian tit-for-tat killings which have swept the capital for months. Another civilian was killed in a drive-by shooting about noon in western Baghdad's Ghazaliyah district, police said.
From
Khaleej Times
Sailor beaten to death in oil tanker over 'cartoons'
FUJAIRAH/DUBAI — A sailor was allegedly beaten to death by his colleagues on board a Norwegian oil tanker in the international waters off the coast of Fujairah, following an argument over the blasphemous cartoon published on Prophet Mohammed in a Danish daily recently. According to reliable sources, the fight among the seamen, which caused the death of one sailor, emerged after an argument between them over their differences of opinions over the slanderous and blasphemous cartoon on Prophet Mohammed.