I admit that I like to play Nintendo, Xbox or Playstation. When my kids were home and played I got hooked on playing with them and still like to play. I like the Bond-type games. I can slap do the bad guys in. I don't have a Wii, but have seriously been thinking about getting one. I haven't because my kids aren't home and I can't use them as an excuse anymore. I just really have not met many women my age who like to play those games!!
All that to say, this story made me feel a lot better. No, I'm not a 'senior' and I'm not a kid either. Still, if these senior communities are getting into Wii then why can't a whippersnapper like me get one and play! That works for me!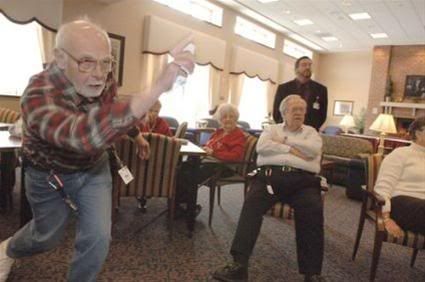 According to
MyWiiNews
these are all the rage in senior-living communities. The benefits are pretty obvious. It gets people up and active both physically and mentally. It also tends to draw the kids around. So when grandpa heats up the ol' Wii, he's likely to have the grandkids coming around to challenge him to a game. Those are all good things for both the young and the old.
Okay, now I'm talking myself into it!