I have the best kids in the world. Within about 30 minutes of getting up this yesterday morning a guy came to the door with a nice vase full of yellow tulips. I love tulips. I knew they weren't from my husband, because I know my husband! Low and behold, they were from my dear Soldier Son and his new bride.

Then about 30 minutes later I got another delivery. This time it was a gorgeous azalea bush! I love azaleas! I have them all over my yard. The azalea was from my sweet darling daughter.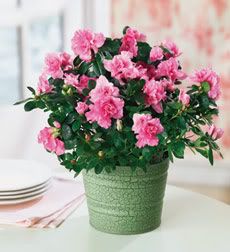 I hardly ever see my kids any more, but they are really the best. I love them dearly and they certainly made my Mother's Day wonderful!