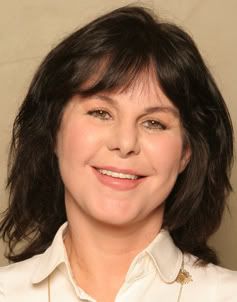 In the video that was recently released by the
American Al-Qaeda Member Adam Yahiye Gadahn
, he lashed out against Jay Leno's wife, Mavis Leno and First Lady Laura Bush. He called them hypocrites and warns that they, along with other Americans, will be punished.
Mavis Leno's wrongdoing? She has worked to help the women of Afghanistan who have suffered under the Taliban. He threatens the First Lady for the same reason.
He says we are in a fight to the death with islam. Once again, the islamist tell us what their intentions are. Once again they tell us that they intend to kill us all and that they view this as a global war with their ideology. Once again, we don't listen.
WorldNetDaily
The American leader of al-Qaida lashed out at the wife of late-night talk show host Jay Leno in a newly released video-taped message warning fellow Americans of coming "punishment."


Al-Qaida propaganda chief Adam Gadahn, aka. "Azzam the American," singled Mavis Leno out for rebuke for her feminist views and criticism of the misogynistic brutality of the Taliban. He also heaped scorn on first lady Laura Bush, suggesting they are both hypocrites.


"Doesn't it seem strange to you that Mrs. Jay Leno and Mrs. George W. Bush ... have failed to express their outrage at this criminal misogynistic behavior which your government and its allies are engaged in and encouraging in Iraq, Afghanistan and Somalia?" Gadahn said, according to a transcription and translation of the 50-minute screed, spoken in Arabic and English.


Leno has been honored by feminist organizations for working to help the oppressed women of Afghanistan. She was one of the first celebrities to draw attention to their brutal treatment under the ousted Taliban regime.


Gadahn, who is wanted by the FBI for treason, claims U.S.-led coalition forces in Iraq are handing over control of parts of the country to Shiite militias who are more brutal than the Taliban, targeting women for gang rape and assassination.


He says they "specialize in sidewalk murders of allegedly immoral women," and their "track record is no better when it comes to their treatment of women." Al-Qaida is comprised of Sunni Muslims.


"Doesn't it seem as though your angry celebrity female activists only spring into action when their campaigns don't conflict with your regime's foreign policies," Gadahn said, "and in fact, serve their colonialist designs?"


Gadahn went on to warn Americans, after tearing up his passport on camera, that "atrocities" against Muslims in Iraq and Afghanistan "will never be forgotten, nor go unpunished."


"You're now in a battle to the death with the Muslims," he said, adding that only releasing Muslim prisoners, leaving Muslim lands and coverting to Islam will spare Americans from "punishment."


"Don't wait until it's too late," he warned, "until you've seen the punishment with your own eyes."


Gadahn did not make specific threats against Leno or the first lady during the video.


In 2002, Leno told CNN's Larry King that she did not plan to travel to Afghanistan to meet with the women she helped liberate, because she feared for her safety.


"I have not been there because the Taliban are well aware of my campaign," she said. "They know what I look like, they know my name."